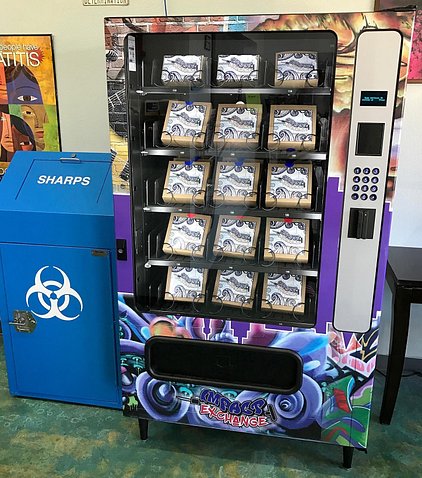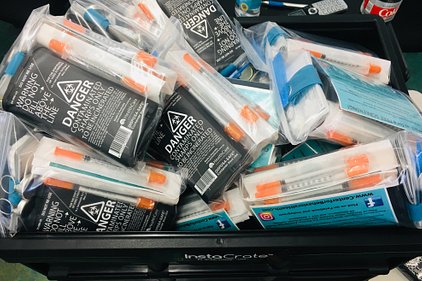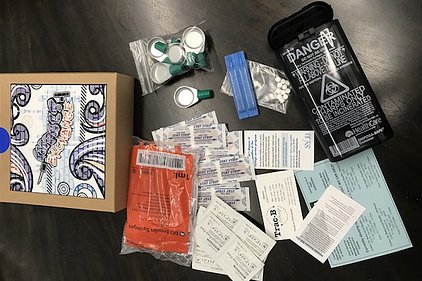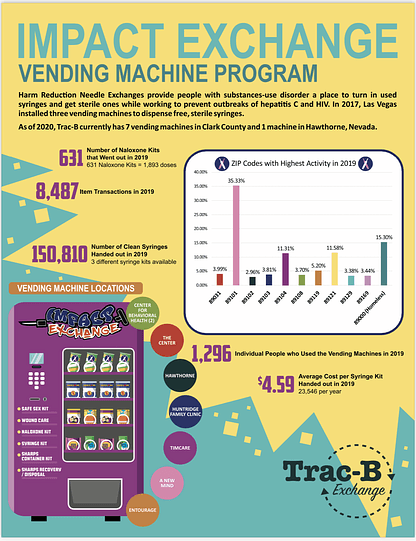 HOW TO SIGN UP:
Click or Scan this QR code to begin the sign up process. Create an account online then answer a few security questions. Once you are finished, stop by the storefront with some form of Identification to receive your vending card. If you are having trouble signing up online you may sign up at our storefront or call us at (702) 840-6693 for any additional questions.
Trac-b Exchange currently has 6 harm reduction vending machines in Las Vegas. These vending machines are the first and only of their kind in the United States. Anyone 18+ with some form of ID can come into Trac-B Exchange (6114 West Charleston Blvd, 89146) and sign up for a vending machine card, online or at our storefront:
HOW IT WORKS:
Participants will have their own unique card/pin number. Once the card is swiped or punched in clients can receive the following; syringes, Naloxone (injectable and nasal), pregnancy tests, safe sex kits, hygiene kits, first-aid kits, and sharps containers. All items in the vending machine are free.
**All machines carry syringes other products may vary by site**
The vending machines are convenient and discrete; participants can go in and out of the building and obtain their supplies without having to speak to anyone, and every location has a large sharps container for syringe returns.
Syringe Kits:
sharps container

cookers

cottons

bandaids

sterile water

sterile syringes
Naloxone Kits:
Nasal Naloxone has 2 doses.

Injectable Naloxone has 3 doses
Hygiene Kits:
toothbrush

toothpaste

body wash

soap

comb
First Aid KIts:
bandaid

gauze

antiseptic towelette

antibiotic ointment

Iodine prep pad
Safe Sex Kits:
Impact Exchange Vending Machines
TIM CARE: 916 Owens Ave, Las Vegas, NV 89106
(702) 617- 6313
Monday-Friday: 9:00am-5:00pm
The Gay & Lesbian Community Center: 401 S Maryland Parkway, 89101
(702) 733-9800
** Machine located in Center's Wellness Clinic**
Monday-Friday 10:00am-7:00pm
Center for Behavioral Health: 3050 E Desert Inn Road #116, 89121
(702)796-0660
Monday-Friday 5:00am - 12:30pm
Saturday 5:30am-9:00am
Center for Behavioral Health: 3470 W. Cheyenne Ave. #400, North Las Vegas, 89032
(702) 636-0085
Monday-Friday 5:00am-12:30pm
Saturday 5:30am-9:00am
Southern Nevada Health District: 280 S. Decatur Blvd, Las Vegas, NV 89107
(702) 759-1000
Monday-Friday 8:00am - 4:30pm
Hawthorne: 105 A Street Hawthorne, NV